Enterprise Professional Services and 24x7x365 Support

For 26 years, Command Prompt has been providing best in class Postgres and Open Source Support and Professional Services. We specialize in bringing white glove service to our clients with Enterprise Wide services that can be engaged 24x7x365. Expect more from your Professional Services and Support provider.

Supported Technologies
Command Prompt will support any technology that they have expertise in. However, most of our clients engage us for support in the following domains:

PostgreSQL support, consulting and development including production and Extended Life Support.
Long Term Release Linux distributions such as Rocky, RHEL, Ubuntu LTS etc...
Software as Code and automation technologies such as Salt and Ansible
Python and Django
Architecture and Design using modern techologies such as Ceph, LXD
Identity/Auth Services including MFA and Single Sign on
Best Practices Architecture and Consulting
Infrastructure as Code (Salt/Ansible)


For more information on support for End of Life versions of PostgreSQL EOL (Extended Life Support) please visit the Extended Life Support page.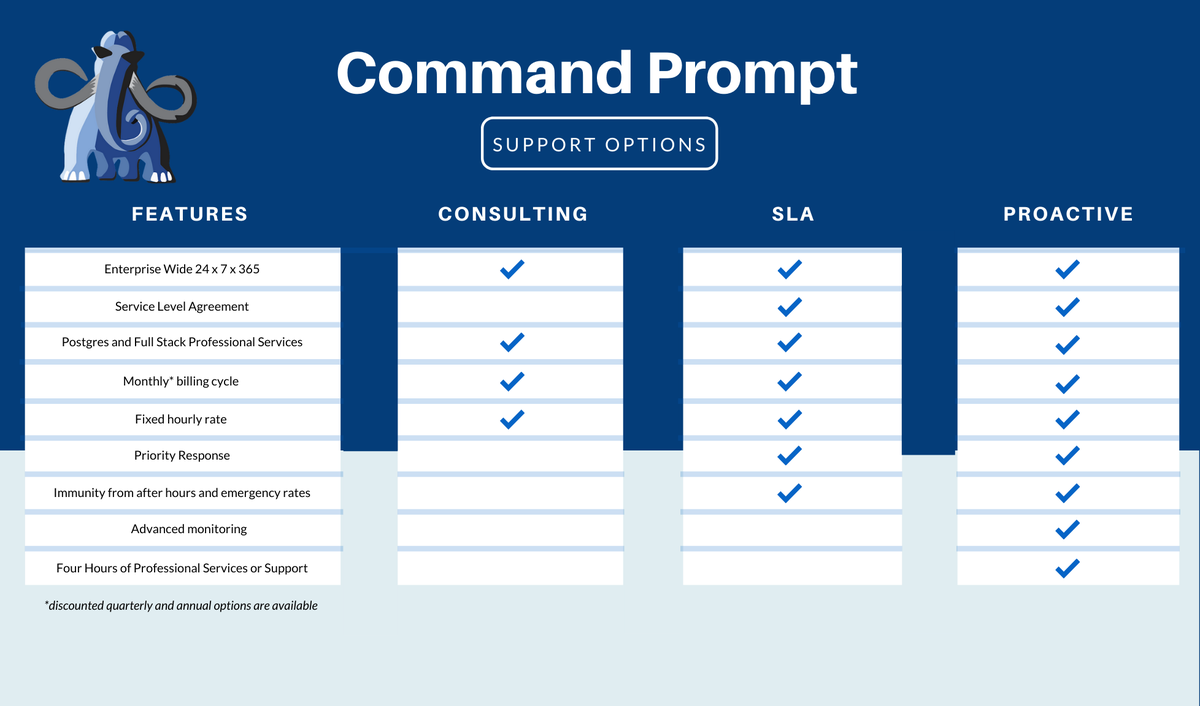 With a Command Prompt SLA, you get a comprehensive and superior support and service offerings throughout the entire Postgres data application and operational lifecycle – from development and proof-of-concept, to QA/test, to deployment and production. We combine monitoring, system tuning, and defined SLAs to ensure the security of your data and performance of your systems.

You will receive a range of benefits, such as:

Expert technical support
Proactive technical assistance
Robust security updates
Maintenance updates and upgrades
Access to Command Prompt's Client Support Portal:

Tracking of Support Incidents
Documentation
Knowledge Based Tools


Existing Partners
Existing clients seeking services may chose from one of the following options:
Login to your client environment an open an issue.
Email to your client environment

Ensure the keyword: EMERGENCY is in subject line for emergencies

Phone: +1.503.667.4564
For detailed instructions please download the: "emergency procedure" linked below.


New Partners
Are you tired of being a customer? Would you like to know your vendor is a partner vested in the success of your enterprise? Then Command Prompt is your Open Source and PostgreSQL support company. We have been operating since 1997 and have a partner retention rate that other professional support companies can only dream of.


With Command Prompt as your partner you will receive enterprise wide, white glove support services from one of the oldest (and oldest PostgreSQL) Open Source companies in existence. We do not charge per instance, per socket, or per database size. We have U.S. and globally distributed staff available to provide a level of support rarely experienced by consumers of Open Source technologies. Our 24x7x365 support offerings grant access to our top tier support engineers whose only purpose is to ensure our partners have unparalleled operational excellence in up-time, reliability and performance.


Initiate Services
At Command Prompt, Inc., we make it transparent and simple to initiate a partnership. To start, pick one of the following: